A workbook for Microblading and PMU is a comprehensive guide that provides step-by-step instructions, techniques, and tips for performing permanent makeup procedures. It typically includes a range of topics such as color theory, skin anatomy, sterilization techniques, and much more. Workbooks are essential teaching tools for professionals in the permanent makeup industry, including trainers, educators, and students. Having a good design for workbooks is crucial for several reasons:
First, a well-designed workbook makes it easier for students to follow along and understand the content. Clear, concise, and visually appealing layouts can help to convey information effectively and keep students engaged.
Second, a professional design can help to establish credibility and enhance the reputation of the training program or course.
Finally, a well-designed workbook can serve as a valuable marketing tool, as it can be used to promote the training program or course to prospective students.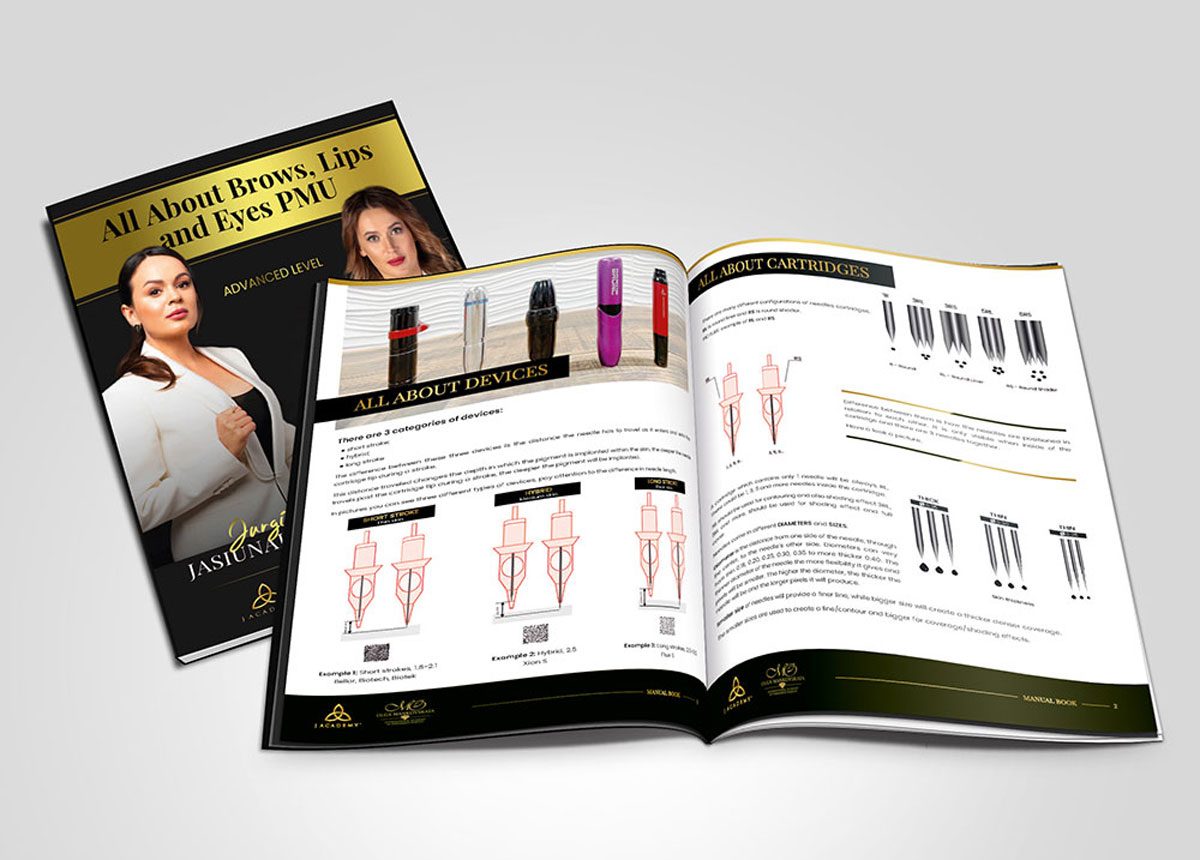 Key Elements and Benefits of a Professional Workbook Design
A well-designed workbook for microblading and PMU should include a variety of elements that are essential to the learning experience of the students. Here are some important components that a good designed workbook for microblading and PMU should include:
Introduction: This section should provide a brief overview of the course and the topics that will be covered in the workbook.
Theory: This section should cover the theoretical aspects of microblading and PMU, including skin anatomy, color theory, and pigment selection.
Practice Sheets: These are essential components of the workbook that provide students with the opportunity to practice their skills. Practice sheets should include basic and advanced techniques.
Glossary: A comprehensive glossary of terms is important in ensuring that students have a clear understanding of the terminology used in the course.
Visual Aids: High-quality images and diagrams are crucial in conveying the techniques and concepts to the students.
Troubleshooting Guide: A troubleshooting guide can be very helpful in helping students identify and correct common mistakes.
Case Studies: Case studies can provide real-life examples of the techniques covered in the course, and can help students to understand how to apply the concepts in practice.
Certification Exam: A certification exam can help to ensure that students have a solid understanding of the course material and are prepared to practice microblading and PMU professionally.
Having a well-designed workbook can help to enhance the learning experience of the students, increase their confidence, and provide a solid foundation for their future careers in microblading and PMU.
Price of Design Service for Workbook of Microblading and PMU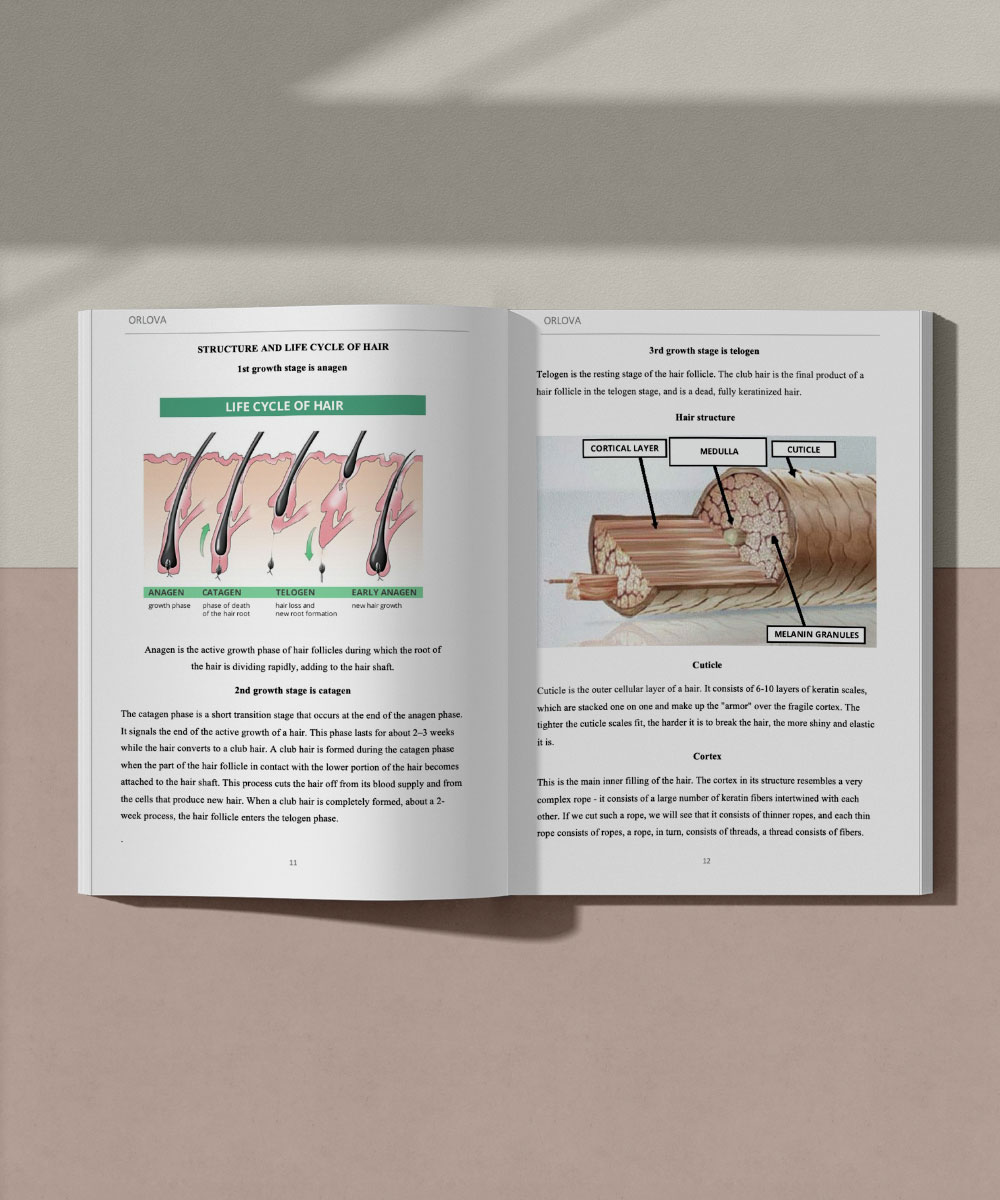 The price for the design service to design a workbook for Microblading and PMU can vary depending on several factors such as the complexity of the design, the number of pages, the level of customization required, the amount of content that needs to be formatted, and the number of revisions needed.
Additionally, the deadline for the project and the level of communication and collaboration required can also affect the price. It's important to discuss these factors with the designer or agency to get an accurate estimate of the cost of the design service for a Microblading and PMU workbook.
Affordable Prices for Design Service for Workbook of Microblading and PMU
Our prices for Design Service for Workbook of Microblading and PMU vary depending on the complexity of the project.
We offer competitive rates, and we always provide transparent pricing so that our clients know what to expect.
Branding and Identity Design Services
Affordable Branding Services
Get a Proposal
Advantages
Free revisions
Fast turn around
High-quality
Good communication
Full-time free support
Custom Design Solutions for Engaging Workbooks in PMU and Microblading Training
Our design service for workbooks of Microblading and PMU offers customized design solutions to help you create professional and engaging learning materials for your students. Our team of experienced designers can work with you to create a visually stunning workbook that showcases your brand and captures the attention of your audience.
Whether you need a new design or an update to an existing workbook, we will collaborate with you to ensure that the design reflects your unique style and meets your specific requirements. We can also incorporate your branding elements, such as logos and color schemes, to ensure consistency across all of your marketing materials.
Our design process includes multiple revisions to ensure that you are completely satisfied with the final product. We understand that your workbook is a critical tool for teaching your PMU or Microblading techniques, and we are committed to providing you with a design that meets your highest standards.
Contact us today to discuss your workbook design needs and let us help you create a professional and effective learning experience for your students.
Client Testimonials: Design Service for Workbook of Microblading and PMU
Our clients love our work, and their feedback speaks volumes about our expertise. Here's what one of our clients had to say:
I enjoyed working with Vladimir on this web design project. He did a very good job. He's fast and easy to communicate and work with. He understood the scope and specifics of our project without issue.
We have been working with Vladimir for 2 years on a huge projects! He is very professional, fast and loyal! Thank you so much for your work!!!
I am very satisfied and will definitely recommend him! Very precise work and good communication during the projects.
Lovely personality to work with. Proactively comes up with solutions. Delivers in a timely manner
This is the second time I've hired Vladimir for my wordpress needs and I will definitely hire him again. He's responsive, great attention to details and very efficient. Excellent work every time.
Vlad was great to work with. Easy to communicate with, he followed my guidelines and requirements exactly, and overall created me a great website. I would use Vlad again in the future should the need arise!
He was extremely responsive and prompt in getting the landing page created - followed instructions and was very clear in his communication! Hiring him again soon for more work!"
Super skilled, always available and understands all the brief from beginning to end. And done fast!
Invest in the success of your PMU or Microblading business with a professionally designed workbook.
Contact us now to get started and take the first step towards creating an engaging learning experience for your students.
Get a Proposal